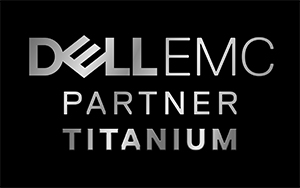 Dell helps businesses harness the power of today's latest technologies, simplifying the entire life cycle of every initiative, from assessment and planning to implementation and support. Technology solutions include backup and recovery, cloud computing, data storage & management, mobile computing, networking, security, servers, systems management, virtualization and workstations.
EMC is a global leader in enabling businesses and service providers to transform their operations and deliver information technology as a service (ITaaS). Fundamental to this transformation is cloud computing. Through innovative products and services, EMC accelerates the journey to cloud computing, helping IT departments to store, manage, protect and analyze their most valuable asset — information — in a more agile, trusted and cost-efficient way.
We make digital transformation a reality.
Changing in an always-on world is not just about a collection of products. It's about giving your employees the power to perform like rock stars from anywhere; growing confidence with a pro-active security strategy; and, most of all, redefining how IT operates. Dell Technologies makes it happen.
IT TRANSFORMATION
The best way to jumpstart the path to a Digital Transformation is through IT. This allows organizations to increase the efficiency of existing systems, implement faster, and enable greater business agility. Less time for maintenance, more time for revenue-generating initiatives.
WORKFORCE TRANSFORMATION
In the digital economy, people carry supercomputers in their pockets. This always-on connectivity presents unprecedented opportunity for businesses to serve customers that once seemed impossible. From modernizing end-user technology with beautiful, innovative devices designed specifically for the way people work, to fostering a culture of innovation through data insights pushed to the edge through intuitive apps.
SECURITY TRANSFORMATION
The threat landscape and IT environments are constantly evolving. To collaborate, communicate, and innovate securely, cybersecurity needs to transform. By providing best-in-class technology and expertise, we've enabled organizations to implement effective and efficient security strategies to stay safe and manage risk in the face of advanced cyber threats, and future digital challenges.
Winslow Technology Group & Dell EMC Partnering For Success
PARTNERSHIP LEVEL
Titanium Partner
GeoPartner
ProDeploy Partner
Dell EMC Loyal: 85% of WTG Spend
Extension of Dell EMC Sales Team
Actively Promoting & Selling Dell Solution Set
PAC/Program Participation
2016 Dell Northeast Partner of the Year
CERTIFICATIONS
Dell Storage, Server, Networking, Converged, Client
Certifications
Dell XC Deployment Certification
ProDeploy: Compellent/SC and Networking Certified
EMC SE: Portfolio Competency
EMC Proven Professional
XtremeIO Specialist Certification
VxRail (In progress)
VMware VCP
WTG SERVICE OFFERINGS
FOR DELL EMC
Dell EMC Demos & POCs
Assessment, Design, Implementation, Management
Server, Storage, Network
Health Checks
Performance Analysis
Firmware Upgrades
Replication Configuration & Testing
Snapshot Configuration & Application Integration
Data Migrations
NAS Migrations
Datacenter Moves
COMPETENCIES
Server
Storage
Storage Services
Networking Services
Workstation
Core Client Solutions