AWN CyberSOC Delivers
Your AWN CyberSOC service installs in minutes and starts monitoring your environment right away to ensure proactive detection and response to threats, intrusions and attacks. The service collects, analyzes and correlates Active Directory information, logs and network traffic. You get timely and actionable security intelligence without the noise of endless false positives. Your service includes:
Cloud-based SIEM based on Elasticsearch, big data and machine learning
Monthly Vulnerability Assessments
Personalized service managed by a dedicated security engineer
Continuous monitoring, analysis and correlations of events, logs and user information
Custom alerts, response management and reporting
An affordable  subscription with no upfront costs
A Security Engineer Dedicated to Your Company
AWN CyberSOC includes a dedicated Security Engineer who acts as an extension of your team. Your Security Engineer configures and tunes your service to your company's technical and business requirements and monitors your security daily, making recommendations to help you prioritize and resolve issues effectively. The Security Engineer's goal is to help you eliminate false alerts, expose real threats, and adopt best practices for effective incident response. By offloading the burden of log analysis and reporting, your Security Engineer frees up your team to focus on their top priorities.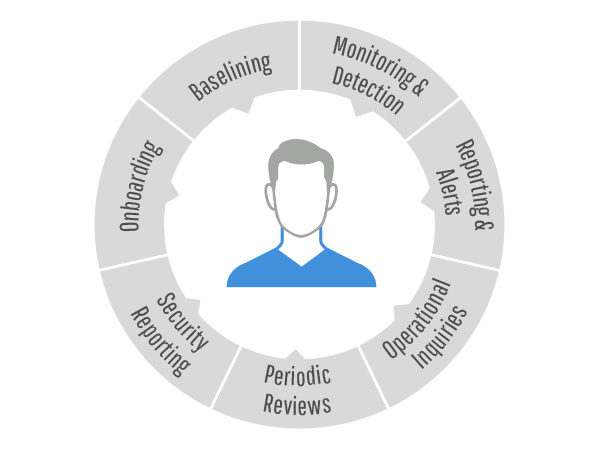 Actionable Security Insights
The rapid evolution of cybercrime makes it impossible for machine intelligence alone to deliver the security insights you need. AWN CyberSOC takes a best-of-both-worlds approach to overcome this challenge.
Our security experts are constantly tuning and improving the AWN service to address the ever-changing threat landscape so you can get AHEAD of cybercrime.
In the Cloud
AWN CyberSOC provides the scalability to handle all of your data. There's no need to buy, tune and maintain more hardware. Our proprietary, cloud-based Security Information and Event Management (SIEM) leverages Web 2.0 technologies such as Elasticsearch, big data and machine learning. In other words, your service self-optimizes over time.