From rack, tower and server infrastructure platforms to simplified management, the next generation of PowerEdge servers is set to accelerate workloads and unburden IT with peak performance, versatile configurations and intelligent, embedded management. State-of-the-art server design is here.
Workload Focus, Accelerated Performance
Dell Compellent's Storage Center SAN (storage area network) features an innovative Dell Fluid Data Architecture that puts the right data in the right place
This line-up is more than just servers; it delivers server solutions that accelerate your specific workloads — and your business. The next-generation of PowerEdge servers was engineered to deliver unmatched performance with greater flexibility, featuring:
Next-generation Flash storage and double the storage throughput
The latest processors with more cores and up to 15 percent greater memory bandwidth
Flexible local storage with increased densities, capacities and performance options
Built for Scalability and Speed
PowerEdge R930, Dell's most powerful four socket server, is specifically designed for the most demanding mission critical applications. Harnessing the power of the Intel® Xeon® processor E7 v4 product family, 8 PCIe SSD drives, 96 dimms of DDR4 memory and a total of 24 hard drives, the PowerEdge R930 delivers the power, flexibility and scalability to maximize application performance. The R930 is the ideal foundation for in-memory databases, Unix to Linux migrations, ERP and CRM applications.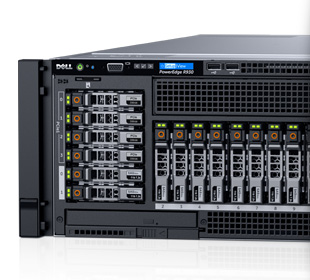 State-of-The-Art Management Any time, Anywhere
OpenManage solutions offer industry-leading automation and simplified management to free your IT staff from repetitive processes, so they can focus on more strategic efforts. Next-generation PowerEdge servers with OpenManage tools deliver unprecedented access, automation and flexibility, with features like:
iDRAC8 with Quick Sync functionality that employs Near Field Communications (NFC) technology for instant and simplified local management
Express local and zero-touch remote deployment that speed time-to-productivity by reducing configuration time more than 99 percent via XML profiling
Policy-based automated updating that lets you configure the iDRAC in each PowerEdge server to retrieve and deploy firmware updates automatically